Belasko is delighted to announce the next phase of its international fund servicing growth programme having received approval from the Commission de Surveillance du Secteur Financier ("CSSF") to become a professional of the financial sector ("PSF").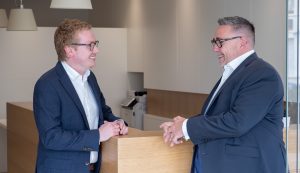 The new status will enable Belasko to expand its delivery of next generation funds services to  Private Capital funds structures and related corporate vehicles utilizing Luxembourg.  Belasko's offer leverages the Group's core strengths supporting Real Estate, Private Equity and Private Debt managers with leading technology and a tailored service.  Belasko Luxembourg is led by Graham Parry-Dew and John Russell, who successfully completed the application process and have recruited a  team of experienced transfer agency specialists, company secretarial professionals and accountants for our existing and growing client base
Speaking about the granting of the licence, Graham Parry-Dew said "this is a key milestone in the growth of Belasko Luxembourg and enables us to continue to support our Group clients with their Luxembourg structures.  We have a built a great team of hard-working individuals with a clear focus on client service, ably supported by our Group technology platform and processes."
Paul Lawrence, CEO of Belasko, added "Luxembourg is a key strategic focus for us, and this news cements our commitment to be in the right locations for our clients to meet their requirements for a reliable, next generation partner to support them with complex fund and corporate administration.  Graham and John have hand-picked a team that understand the importance of client service delivery and we look forward to building our presence in this key European financial centre".
The Belasko Group operates across 4 strategic locations servicing over $7bn of assets with approximately 85 staff.
---